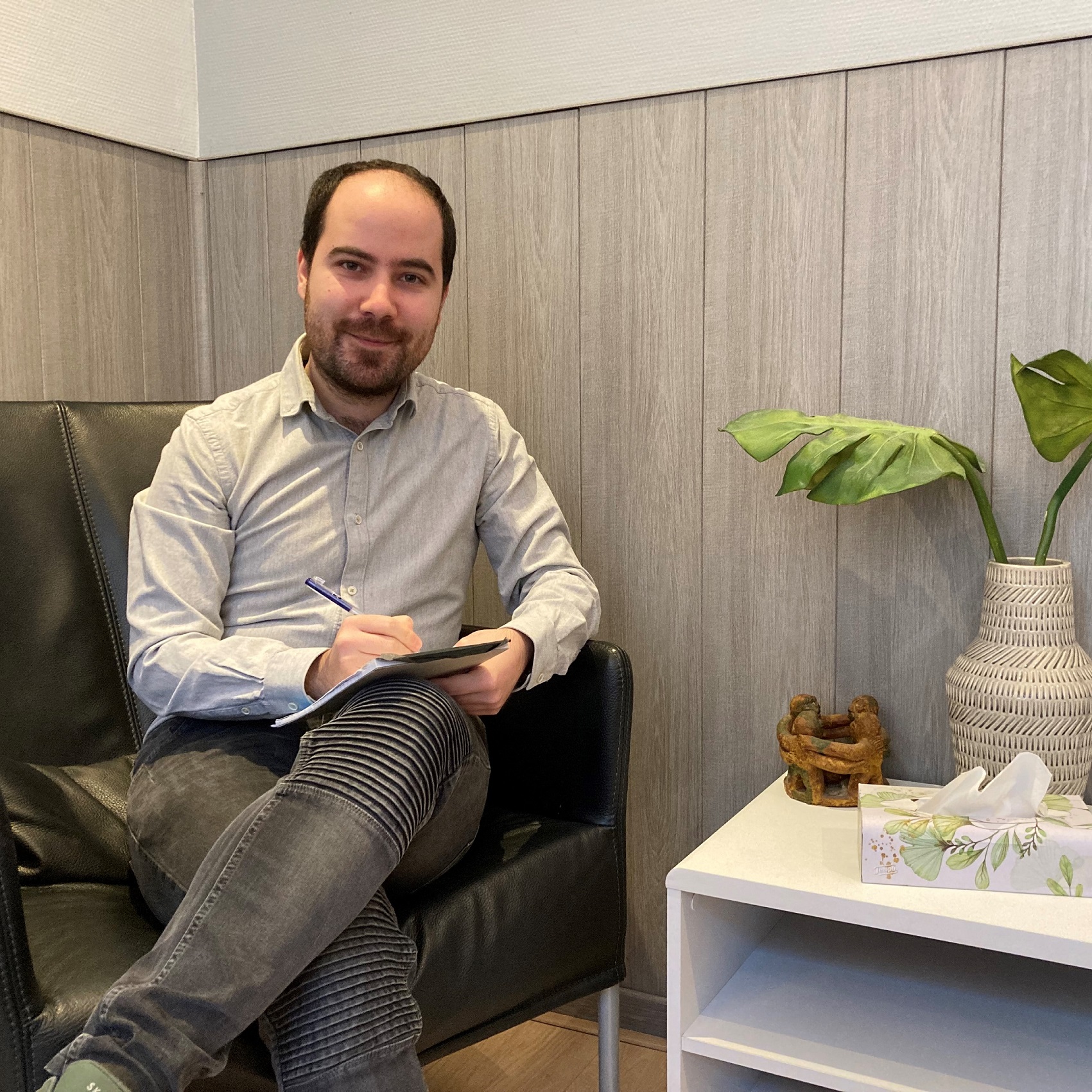 Hello! My name is Cevdet and I am a clinical psychologist (therapist). I obtained my master's degree from Leiden University. Moreover, I am trained in Cognitive Behavioral Therapy, EMDR and Schema Therapy.
My journey started in Istanbul, Turkey where I was born and raised. Later, I moved to Ankara for my B.Sc. in Psychology. I had the chance to study in one of the best psychology departments of the country, in Middle East Technical University. After graduating with high honours in 2016, I moved to The Netherlands and started living in the beautiful city of Leiden. I have been awarded Leiden Excellence Scholarship and admitted to Clinical Psychology masters programme in 2017.
I believe that high quality psychological services and effective therapy is only possible by connecting cutting-edge scientific findings with the clinical practice. Therefore, during my masters in Leiden University I have participated in many research projects in which we used EEG and fMRI to understand some of the neuroscientific mechanisms behind psychological disorders. In parallel, I received extensive training in therapeutic skills, clinical assessment and cognitive behavioural interventions.
After completing my master's degree (cum laude) in 2018, I started working in the Leiden University, at the department of psychology. I taught several courses including "Personality, Clinical and Health Psychology". Afterwards, I have completed International Society of Schema Therapy (ISST) approved Schema Therapy training. Currently, I am in the supervision phase towards obtaining scheme therapist licence. In addition, I completed EMDR Europe approved EMDR Therapy Level 1 training. Furthermore, I am a PhD candidate at the Erasmus University Medical Center, Rotterdam at the department of epidemiology.
I try to create a safe environment in which my clients can have the feeling of "there is no wrong here". I am first and foremost there for you and highly curious to listen to "your story". Fundamentally, during the therapy sessions I believe there are "two experts". You as "the specialist of your life" and me as "the specialist of psychology", and we are working together for you, as equals and as allies…
I am dedicated to never cross your boundaries, never judge, always walk at your pace and accept you as who you are. Instead of trying to be perfect or emotionless, I will be there as an imperfect human-being. Yet, with effective techniques and flexibility, I can ensure following our treatment plan that we created together in the first sessions. As we progress, we can modify and refine our plan, and expressing your negative emotions towards therapy are highly encouraged.
Ultimately, I aspire to help you in gaining more insight and awareness into your emotions, thoughts and behaviours while learning new ways to think and cope with hardships. Empowering your healthy side yet encouraging you to unlearn maladaptive patterns in your life. Wish you a meaningful therapy process.
Merhaba, ben klinik psikolog Cevdet Acarsoy. Yüksek lisansımı Leiden Üniversitesi'nden aldım. Bilişsel Davranışçı Terapi, EMDR ve Şema Terapi kullanıyorum.
İstanbul'da doğdum, ilkokul ve lise eğitimimi burada tamamladıktan sonra Orta Doğu Teknik Üniversitesi (ODTÜ) Psikoloji Bölümü'nü kazanarak Ankara'da yaşamaya başladım. 2016 yılında yüksek şeref derecesiyle mezun olduktan sonra, Hollanda'ya taşındım. Leiden Excellence bursu kazanarak, Leiden Üniversitesi Klinik Psikoloji yüksek lisans programına başladım.
Kaliteli ve etkili psikolojik yardım için, klinik tecrübeyle bilimsel bulguları birleştirmek gerektiğine inanıyorum. Bu sebeple, yüksek lisansım sırasında bir çok bilimsel araştırmaya katkı sağladım. Bu araştırmalarda Elektroansefalografi (EEG) ve fonksiyonel Manyetik Rezonans Görüntüleme (fMRI) gibi yöntemlerle, psikolojik bozuklukların beyindeki mekanizmalarını anlamaya çalıştık. Buna paralel olarak, terapi, klinik muayene ve bilişsel davranışçı tedaviler üzerine dersler aldım.
2018 yılında yüksek lisansımdan onur derecesiyle mezun olduktan sonra, Leiden Üniversitesi Psikoloji Bölümü'nde dersler verdim. Ardından, Uluslararası Şema Terapi Derneği (ISST) onaylı Şema Terapi eğitimimi tamamladım. Şema terapi lisansımı almak adına süpervizyon kapsamında çalışmaya devam ediyorum. Ek olarak, EMDR Europe onaylı 1. Düzey EMDR eğitimimi tamamladım. Aynı zamanda, Rotterdam Erasmus Üniversitesi Tıp Merkezi'nde epidemiyoloji alanında doktora yapıyorum.
Danışanlarımın kendini rahat ve güvende hissedebileceği bir görüşme ortamı yaratmaya çalışıyorum. Her şeyden önde, "sizin hikayenizi" merakla dinlemek için buradayım. Temelde şuna inanıyorum: seans sırasında odada iki uzman olarak bulunuyoruz. Sizler sizin hayatınızın uzmanı ben de psikoloji uzmanı olarak iki eşit uzman olarak, müttefik olarak sizin için çalışıyoruz...
Sınırlarınıza saygı duymaya, sizin hızınızda ilerlemeye ve sizi olduğunuz gibi kabul etmeye kararlıyım. Seanslar sırasında, mükemmel ya da duygusuz görünmek yerine, bir mükemmel olmayan ve duyguları olan insan olarak bulunuyorum. Aynı zamanda, etkili teknikler ve esneklikle, birlikte oluşturacağımız terapi planımıza sadık kalarak devam edeceğiz. Seanslar ilerledikçe, bu planı güncelleyebiliriz. Terapi konusunda iyi kötü her duygunuzu ifade edebilirsiniz ve bunları konuşabiliriz.
Amacım, duygu, düşünce ve davranışlarınızı anlamlandırmanıza yardımcı olmak. İçgörü kazanarak, uyumsuz başa çıkma biçimleri yerine daha sağlıklı davranışları benimsemenizde ve zorluklarla başa çıkmanızda sizi desteklemek. Yararlı bir terapi süreci diliyorum...